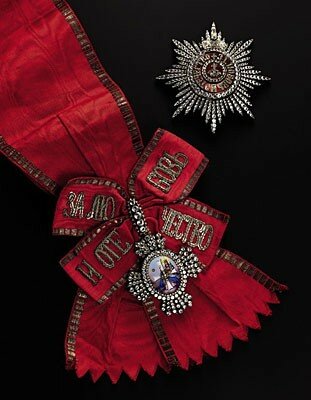 A full set of insignia of the Grand Cross of the Order of St. Catherine, circa 1889
Lot 22. The badge of the Grand Cross, set with paste diamonds in the shape of the cross, the centre with enamelled painting depicting St. Catherine holding a large white cross and a palm branch. A small cross decorated with paste diamonds is superimpossed on the white cross, the ribbon is crimson moiré edged in silver, inscribed in Cyrillic with the motto of the Order 'For Love and Fatherland', the sash of similar colour, the silver and silver-gilt eight-pointed star set with paste diamonds enclosing a central medallion surmounted by the Imperial crown and centred by a quarter wheel surmounted by a cross within a wide red guilloché enamel band set with the motto of the Order 'For Love and the Fatherland, with a hinged pin on the reverse. The cross 2½ in. (6.2 cm.) high; star 3½ in. (8.7 cm) high - Estimate: £80,000-120,000
Provenance : Grand Duchess Militza Nikolaevna (1866-1961), wife of Grand Duke Peter Nikolaevich (1864-1931).
Notes : Grand Duke Peter was the brother of Grand Duke Nicholas Nikolaievich the Younger (1859-1929) and Grand Duchess Militza was the second daughter of King Nicholas I of Montenegro (1841-1921).
The present order was purchased by Imperial Cabinet on January 25th, 1886 for 4139 roubles from the jeweller Zeftingen and presented to Princess Militza of Montenegro on May 25th, 1899.
We are grateful to Valentin Skurlov for providing the above information.
Christie's. Russian Works of Art Including The Rothschild Fabergé Egg. 28 November, 10:30 am. 8 King Street, St. James's, London