China 13th century. Round Covered Box. Lacquer, Carved red and yellow lacquer (t'i hung) 1 3/4 x 6 1/2 x 6 1/2 in. (4.4 x 16.5 x 16.5 cm) Minneapolis Institute of Arts. Gift of Ruth and Bruce Dayton, 2001.73.1a,b ©The Minneapolis Institute of Arts. Photographe : Photography ©The Minneapolis Institute of Arts
The slightly domed lid of this shallow bowl is densely carved with two parakeets flying amongst flowering camellias, gardenias, and chrysanthemums. The box is embellished with a single flower each of tree peony, gardenia, camellia, and prunus all carved down to a buff ochre ground. The interior is of brown lacquer. One of the most important technical innovations of Southern Sung was lacquer carved with pictorial designs. As is typical of this earliest stage, the surface is relatively two-dimensional; there is virtually no overlapping of forms; the contours are cut at an angle with little rounding of edges; and there is no relief carving or incising to indicate texture or depth. By the fourteenth century, artists had mastered pictorial devices like foreshortening, overlapping, and fine incisions to create pictorial images that are more three-dimensional and naturalistic. This cosmetic or incense box is an early example of a style of carved lacquer featuring a "two-bird" and flower motif in the main register. This basic motif remained popular for over a century into early Ming. Large numbers of covered porcelain boxes of this general shape and size were made during Southern Sung and Yuan and shipped throughout Southeast Asia.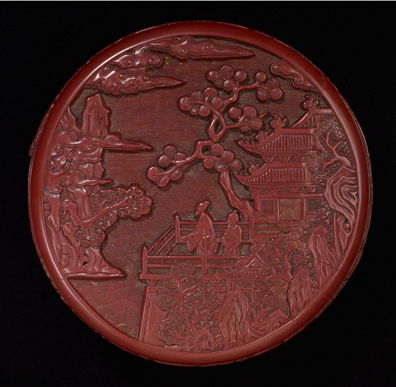 China 15th century. Round box with cover, 1403-1427. Lacquer, Red lacquer (cinnabar) 2 x 5 1/2 x 5 1/2 in. (5.08 x 13.97 x 13.97 cm) Minneapolis Institute of Arts. Gift of Ruth and Bruce Dayton and the Ruth Ann Dayton Chinese Room Endowment Fund, 2007.40a,b ©The Minneapolis Institute of Arts
The carved wares of the fifteenth century are considered the finest of all carved lacquer wares. They were greatly appreciated by members of the Ming and Ch'ing courts and the characteristics of these classic imperial wares of early Ming set a connoisseurship standard that has persisted to the present day.

This circular box is exquisitely carved on the top with a landscape depicting a pavilion and figures. The carving is very deep indicating around a hundred layers of lacquer were applied which would mean that over a year would have elapsed before the piece was ready to be carved. Works made for the court exhibit extremely fine craftsmanship and this box bears a six-character reign mark on the base dating it to the Yung-lo reign (1404-1424).