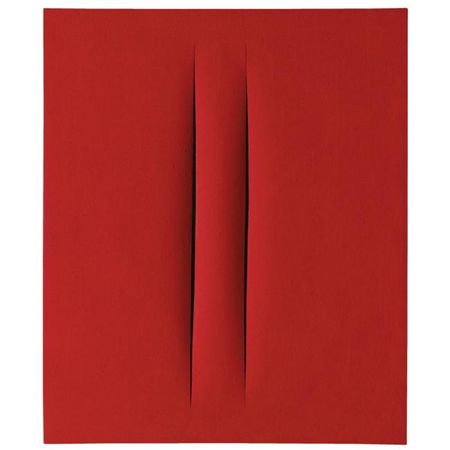 Lucio Fontana, Concetto spaziale, Attese
waterpaint on canvas. signed, titled and inscribed Duecento, trecento, quattrocento - mille on the reverse. 55 by 46.5cm. Executed in 1966. Est. 300,000—400,000 GBP - Sold 457,250 GBP
PROVENANCE: Anna Daelli, Milan
Private Collection, Milan
Sale: Sotheby's, London, Post-War and Contemporary Art, 20 May 1987, Lot 370
Gallery Art Point, Tokyo
Private Collection, Tokyo
Acquired from the above by the present owner
EXHIBITED: Tokyo, Tama Art University Museum, Lucio Fontana. Spatial Conception, 1990, p. 58, no. 54, illustrated in colour
LITERATURE AND REFERENCES: Enrico Crispolti, Lucio Fontana Catalogue Raisonné, Brussels 1974, vol. II, pp. 184-185, no. 66 T 82, illustrated
Enrico Crispolti, Lucio Fontana Catalogo Generale, Milan 1986, vol. II, p. 645, no. 66 T 82, illustrated
Enrico Crispolti, Lucio Fontana Catalogo Ragionato, Milan 2006, vol. II, p. 840, no. 66 T 82, illustrated
NOTE: Produced in 1966, the year in which Fontana was awarded the International Grand Prize for Painting at the XXXIII Venice Biennale, Concetto Spaziale, Attese epitomizes the artist's groundbreaking explorations in Spatialism. This red variation on Fontana's signature Concetto Spaziale fuses together sensual intimations and the artist's research in conceptually translating infinity of space into the canvas. Exquisitely executed, the two lyrical slashes simultaneously evince spontaneity and control. The rich, saturated layer of red waterpaint allows the weave of the canvas to show through, insistently drawing attention to the materiality of the artwork. With a sculptor's sensibility, Fontana discarded conventional reverence for the canvas, and instead treated it as an artistic object in its own right. As an image of spatial reality, Fontana emphasises the canvas's presence with bold, invasive gesture. Fontana, cutting directly into the canvas, creates a beautiful contrast to the delicacy of the waterpaint.

In Concetto Spaziale, Attese Fontana performed surgery on the very concept of painting, committing sacrilege on Clement Greenberg's high altar of Modernism, the flat picture plane. As Fontana declared in his last recorded interview: "I make a hole in a canvas in order to leave behind the old pictorial formulae, the painting and the traditional view of art and I escape, symbolically, but also materially, from the prison of the flat surface" (conversation with Tommaso Trini, July 19, 1968, in Exhibition Catalogue, Amsterdam, Stedelijk Museum; London, Whitechapel Art Gallery, Lucio Fontana, 1988, p. 34). This inquiry into the grey area between painting and sculpture takes a particularly alluring form in the brilliant red of the present Concetto Spaziale, Attese.

In the present work, our eye and our mind are forced by the visual pureness of the cuts opened on a red, fiery background, to meditate upon what lies beyond and behind the canvas surface.
Sotheby"s. 20th Century Italian Art . 16 Oct 09. London www?sothebys.com