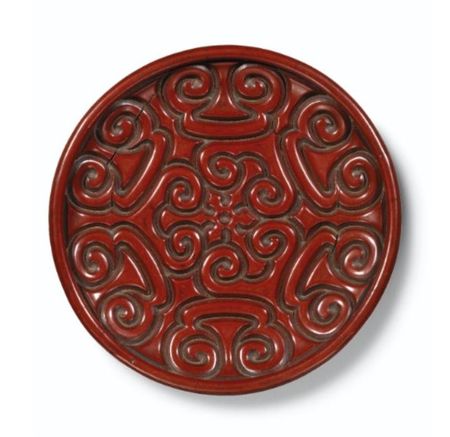 An extremely rare and important Cinnabar Lacquer 'guri' dish, signed Pan Xin. Southern Song Dynasty, dated guihai year. Photo Sotheby's
the circular dish deeply carved through thick layers of red and black lacquer with three heart shaped guri pommels in the centre forming a star, encircled by six further ruyi-head shaped pommels, all below a thick rolled lip at the rim, the exterior similarly decorated with six further pommels, the layers of black lacquer appearing in two thin lines sandwiched between the red layers, all supported on a low tapered foot, the underside lacquered in brown and incised to the left side with the inscription guihai Pan Xin zao ('Made by Pan Xin in the guihai year'); 22.2 cm., 8 3/4 in. Estimation 2,500,000-3,000,000 HKD. Lot 3136 vendu: 3,140,000 HKD
NOTE DE CATALOGUE: The present finely carved guri lacquer tray is noteworthy for the inscription on the back which dates the piece to the guihai year of the Song Dynasty, and records it being made by 'Pan Xin'. The tray appears to be the only dated guri lacquer piece known and recorded. During the Song dynasty, high quality lacquer products often bore inscriptions indicating the date, place of manufacture, the family name of the craftsman or the name of the workshop where he was employed. While the identity of Pan Xin remains unknown, the guihai year could correspond to the following years of the Southern Song Dynasty -1143, 1203, 1263. A number of important families and master craftsmen active in the production of lacquer ware came from Xiangzhou, Hangzhou, Suzhou and Wenzhou - cities that were renowned for their carving workshops and as centres of excellence in arts and crafts in China.
The tray displays much of the characteristics attributed to early guri lacquer, such as the sharply formed V-cut channels and edges that are left slightly rough to reveal the knife edge; and the walls of the ruyi motif which are particularly deep and display the many layers the carver has cut through to reach the base. The use of alternating black and red lacquer layers are exposed through the carving and is used as an attractive decorative element. While at first glance designs on guri lacquer pieces appear similar, there are no two that match. For related dishes of the Song period see a larger example, carved with two rows of ruyi designs and a different motif in the centre, included in the exhibition So Gen no bi, Nezu Institute of Fine Arts, Tokyo, 2004, cat. no. 68, together with two black lacquer dishes, one carved with three rows and the other with six rows of ruyi design, cat. nos. 63 and 64 respectively.
Compare also a dish with a single row of ruyi units surrounding a butterfly-shaped pattern in the centre, included in the exhibition, 2000 Years of Chinese Lacquer, Art Gallery, The Chinese University of Hong Kong, Hong Kong, 1993, cat. no. 25.
A smaller cinnabar guri dish of this type, from the Lee Family collection and included in a number of important museum exhibitions such as the Dragon and Phoenix, The Museum of East Asian Art, Cologne, 1990, cat. no. 7, was sold at Christie's Hong Kong, 1st December 2009, lot 1808
Sotheby's. Fine Chinese Ceramics & Works of Art. Hong Kong | 04 avr. 2012 www.sothebys.com