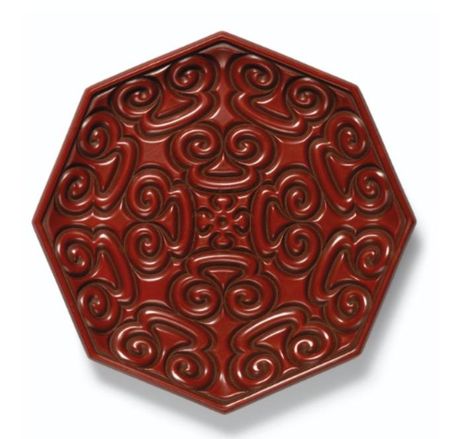 A fine and extremely rare octagonal cinnabar lacquer 'guri' dish. Song Dynasty. Photo Sotheby's
of eight-sided form with shallow rounded sides, deeply carved through thick layers of red lacquer and two fine black layers with robust guri pommels, the centre formed by four heads enclosing a four-pointed star, the cavetto carved with eight similar heads, one below each side of the facetted rim, the exterior similarly decorated with eight 'C'-shaped pommels set between the rim and the foot, the underside lacquered in black; 31 cm., 12 1/4 in. Estimation 1,000,000-1,500,000 HKD. Lot 3138 vendu: 2,780,000 HKD.
NOTE DE CATALOGUE: Early guri lacquer trays of this octagonal form are unusual; the shape is better known from a small number of plain examples of the Song dynasty such as the tray included in the exhibition So Gen no bi, Nezu Institute of Fine Arts, Tokyo, 2004, cat. no. 21. No other guri lacquer tray of this form appears to be recorded. The tray is beautifully carved and displays much of the characteristics associated with early wares made in this attractive decorative technique. The technique, known by its Japanese name guri (or tixi in Chinese), is referred to in the Butsu-nichi-an kmotsu mokuroku, a catalogue of the significant objects of the Zen temple Enkaku-ji in Kamakura. Compiled in 1363, this important document mentions a group of Chinese carved lacquer dishes, bowls, incense burners and boxes preserved at the temple brought by the Chinese monk Xu Ziyuan in 1282. The guri design on the present dish is attractively laid out, with a gentle curvature giving a touch of softness to the high relief and deep cut.
For later, Ming period, guri lacquer examples see a smaller eight-lobed dish sold in our London rooms, 15th December 1987, lot 8; and another slightly larger octagonal dish carved with alternating black and red layers of lacquer sold at Christie's New York, 26th March 2003, lot 6. An eight-lobed dish in the Nanjing Museum is illustrated in Zhongguo qiqi quanji, vol. 5, 1995, Fuzhou, pl. 38, together with a round dish in cinnabar lacquer, in the Palace Museum, Beijing, pl. 37, both attributed to the early Ming period
Sotheby's. Fine Chinese Ceramics & Works of Art. Hong Kong | 04 avr. 2012 www.sothebys.com