05 mai 2012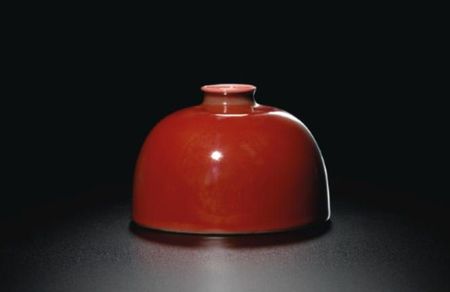 A fine peachbloom 'Bee-hive' waterpot, taibo zun. Mark and period of Kangxi. Photo Sotheby's
the hemispherical body contracting to a narrow waisted neck below an everted mouthrim, the exterior incised with three archaistic chilong roundels, glazed throughout in an mottled red of a rich crushed-strawberry tone with characteristic mushroom-coloured speckles at the neck, save for a white base inscribed in underglaze blue with a six-character reign mark written in three vertical lines, wood stand; 12.7 cm., 5 in. Lot 3101.Estimation: 700,000-900,000 HKD. Lot vendu: 1,940,000 HKD
PROVENANCE: An old Japanese collection.
NOTE DE CATALOGUE: The Tang dynasty poet Li Taibo, known as a notorious drinker, is often depicted leaning against a wine jar of this form, for example, in a porcelain sculpture of the same period, showing the poet seated with closed eyes, a cup in his hand; see Kangxi, Yongzheng, Qianlong. Qing Porcelain from the Palace Museum Collection, Hong Kong, 1989, p.106, pl. 89, where a similar peachbloom vessel is illustrated p. 142, pl. 125; three examples of this form and glaze from the collections of Peter A.B. Widener and Harry G. Steele are in the National Gallery of Art, Washington, D.C., see Virginia Bower et al., The Collections of the National Gallery of Art. Systematic Catalogue: Decorative Arts, part I, Washington, 1998, pp. 69-71. Compare also an example in the Meiyintang Collection, illustrated in Regina Krahl, Chinese Ceramics from the Meiyintang Collection, London 1994-2010, vol. 2, no. 821 (left), and vol. 4, p. 328.
Sotheby's. Fine Chinese Ceramics & Works of Art. Hong Kong | 04 avr. 2012www.sothebys.com
Commentaires sur A fine peachbloom 'Bee-hive' waterpot, taibo zun. Mark and period of Kangxi.